If you look in the mirror and wish for the days when your face did not have laugh lines between your nose and mouth, you may want to consider non-surgical treatments with Restylane® Defyne. Dr. Yousefi of Younger Image Plastic Surgery Center offers the exclusive Restylane® Defyne for those patients in Washington, DC, Vienna, Arlington, and the surrounding areas of Northern Virginia who want silky smooth skin and a no downtime way to treat pigmentation and fine lines.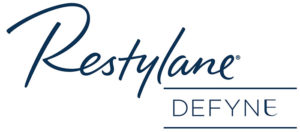 What is Restylane® Defyne?
Restylane® Defyne and Restylane® Refyne are two of the newest products in the Restylane® family of injectable dermal fillers. Both products have been used in Europe since 2010, accounting for more than one million treatments. The FDA has approved Restylane® Defyne for the treatment of moderate to severe deep laugh lines that extend from the outer edges of the nostrils to the corners of the mouth. Restylane® Defyne is specifically formulated to reduce these wrinkles by providing a greater level of support while maintaining a natural appearance.
Like several other dermal fillers, Restylane® Defyne contains hyaluronic acid (HA) as the active ingredient that fills in wrinkles. An abundance of HA keeps the skin looking youthful, smooth and hydrated. Restylane® Defyne produces dramatic improvements by replenishing the HA that diminishes as we age. The key to the remarkable results of Restylane® Defyne treatments is the XPresHAn Technology behind the ultra-smooth gel consistency of the product. This allows for a more natural post-treatment appearance as well as the additional support the skin needs to "lift" and soften wrinkles.
How Does Restylane® Defyne Work?
The FDA has approved the use of Restylane® Defyne for treating laugh lines in men and women who are at least 21 years old. The product is injected into the deep layers of skin using a fine gauge needle. Dr. Yousefi makes several injections along the wrinkle to produce a consistent and natural result.
After the injections, you can return to your activities. No downtime is needed. You may notice localized symptoms around the injection sites, and these symptoms may range from mild to moderate. Common post-treatment symptoms are:
Pinpoint bleeding
Swelling
Redness
Pain
Tenderness
Formation of a small bump or lump
Bruising
You can apply a cold compress to the area to alleviate the symptoms but should avoid placing direct pressure on the skin. Over-the-counter pain medications may also help. The symptoms should resolve within 24 to 48 hours.
What Results Can I Expect from Restylane® Defyne?
Clinical studies show that most patients see a dramatic improvement in their nasolabial folds within six weeks of treatment with Restylane® Defyne. The results will last up to 12 months.
Who Should Not Be Treated with Restylane® Defyne?
Dr. Yousefi may recommend an alternative treatment for your nasolabial folds if you:
Have advanced or severe signs of aging that require surgery
Are allergic to the ingredients in the product
Have a bleeding disorder
Are or plan to be pregnant or breastfeeding
Have had laser treatments or chemical peels
Take certain medications
Have an active or chronic skin condition
How Much Does Restylane® Defyne Cost in Washington, DC?
The cost of treatment with Restylane® Defyne is based on the amount of product that is needed to achieve the desired results. We are better able to provide an accurate cost after your consultation. Younger Image Plastic Surgery Center currently works with CareCredit® and Blispay® to provide our patients with convenient financing options. Within a few hours of applying, you can be pre-approved for your cosmetic procedures.
Younger Image Plastic Surgery Center offers Restylane® Defyne to patients in Washington, DC, Vienna, Arlington, and the surrounding areas of Virginia. Dr. Jamal Yousefi and his staff combine personalized care with the latest technology to provide each patient with extraordinary results. For more information or to schedule a patient consultation, contact us to speak to a member of our friendly and very knowledgeable staff.