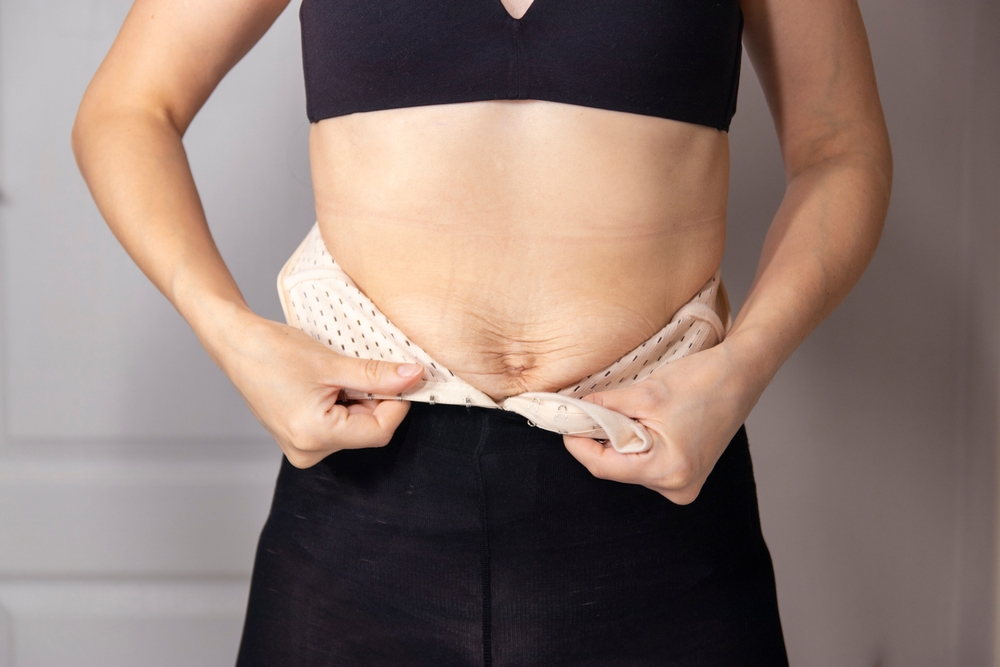 Mommy Makeover Near Washington, DC
Motherhood, while exciting and rewarding, can also be exhausting and wreak havoc on your body. Physical changes like sagging breasts and stretch marks can have a negative impact on your self-confidence.
A mommy makeover is a unique combination of procedures that restore your pre-pregnancy body.
Why Should I Choose a Mommy Makeover?
A mommy makeover is a customizable treatment plan that can address any areas of concern you have. That means you can choose which procedures you wish to have. Naturally, there will be recovery time, but it's much easier to recuperate from multiple surgeries at once than to space out your procedures individually.
Post-childbirth, many women find they are unhappy with the way their body looks. While this is very common, it doesn't mean you have to remain unsatisfied. Your confidence matters, and when you look great, you feel great!
If you want to reclaim your pre-pregnancy figure, a mommy makeover is the way to do it. This is especially true if diet and exercise aren't helping you reach your goals.
What Procedures Are Included in a Mommy Makeover?
This is completely up to you, and it can be a combination of surgical and non-surgical techniques! As mentioned, you choose the procedures you want based on what you wish to correct. Of course, your surgeon will be with you to help you decide. The most common procedures including in a mommy makeover are:
Breast augmentation: Interested in silicone or saline implants for breast enhancement? Many moms find this surgery ideal to add volume and fullness. A breast lift pairs quite well with breast implants!
Tummy tuck: Abdominal muscles can stretch and become weak during childbirth. One way to correct this is with a tummy tuck. Not only does this surgery tighten muscles, but it removes excess skin and small pockets of fat as well.
Liposuction: Commonly done in conjunction with other procedures, liposuction can eliminate stubborn fat on many areas of your body. This provides a more balanced and contoured physique.
Lower body lift: Removing excess loose skin on your abdomen, back, buttocks, hips, and / or thighs can give shape to the shapeless. Choose a lower body lift if you want a slimmer, attractive post-baby body.
Botox and dermal fillers: Many women choose to simply soften their look after having a baby. Botox and dermal fillers do a phenomenal job of eliminating fine lines, wrinkles, and other signs of aging. When injected by a skilled healthcare professional, a subtle overall facelift effect can be achieved with cosmetic injectables.
Facial treatments: Good skincare after having a baby is essential. While you might have a routine already in place, it can't hurt to add facial treatments such as microneedling, a chemical peel, or laser skin resurfacing to your existing skincare regime.
How Soon After Having My Baby Can I Have Cosmetic Surgery?
Most plastic surgeons recommend you wait at least six months after having a baby, which should be the last one you intend to have. This gives your body time to heal so you can really see what areas need to be addressed and prevents diminished effects caused by future pregnancies.
If you are breastfeeding, it is recommended you wait until your child stops nursing for about six weeks to have any cosmetic surgery or other medical aesthetic treatments.
Should I Really Not Have a Mommy Makeover if I Plan to Have More Children?
Having a mommy makeover before you're done having children is a personal choice, though it's not recommended. Your body goes through changes with every pregnancy, and having a mommy makeover too soon might interfere with your original results.
What Can I Expect During Recovery After a Mommy Makeover?
Your recovery time after a mommy makeover will depend on the procedure(s) you choose to have. You should expect it to last from four weeks to two months at minimum. As a general rule of thumb, you should plan to take at least two weeks off from work.
During this period of time, you'll have side effects such as bruising, swelling, and discomfort. You may or may not need drains at the incision sites, bandages, and a compression garment.
Your physical activity will be restricted for a little while too. You'll need to avoid strenuous activity and not lift anything over 10 pounds, including a baby. Gradually you'll be able to resume your normal activities and see the final outcome of your surgery.
Your surgeon will give you full post-op instructions. Remember, this is a time for you to rest and allow your body to heal. Stick with nutritious meals and snacks, stay hydrated, ask for help when you need it, and listen to your body. If you experience unusual pain, stop what you're doing and contact your surgeon if it doesn't improve after rest.
Do I Qualify for a Mommy Makeover?
The best way to find out if you qualify is to consult with a reputable plastic surgeon. One of the first things they'll want to discuss with you is your health.
The ideal candidate is a patient who is in good health, a non-smoker, and close to their ideal weight. It's also important that you are emotionally prepared for a mommy makeover. Yes, these combined procedures can certainly boost your confidence, but they can also impact your mental health.
There are a few ways you can prepare mentally and emotionally:
Always ask questions and share your concerns with your plastic surgeon, no matter how insignificant you think they may be. There are no stupid questions when it comes to cosmetic procedures.
Do your own research about the procedures you plan to have. Knowledge is power!
Make arrangements before your surgery to reduce stress. Plan for help at home, arrange child and pet care, and make wherever you're going to rest comfortable beforehand. Set up things you'll need within reach such as snacks, lotion, books, chargers, and remotes.
Be realistic about your recovery. A mommy makeover is absolutely a worthwhile investment and you will love your results, but it takes time to get there. Patience is key to an easy recovery.
Where Is the Best Place to Go for a Mommy Makeover Near Washington, DC?
Turn to Younger Image Plastic Surgery Center, where board-certified plastic surgeon Dr. Jamal Yousefi has dedicated his career to ensuring his patients enjoy sensational, natural looking plastic surgery results. A member of the American Society of Plastic Surgeons, Dr. Yousefi stays current on technological advances and techniques related to the fields of surgical and non-surgical procedures.
At Younger Image, we have our own state-of-the-art surgical center. It is certified at the highest level by the American Association for Accreditation of Ambulatory Surgery Facilities, Inc. (AAAASF). At our center, you'll receive comprehensive, high-quality care you won't find anywhere else.
If you're interested in a mommy makeover, we encourage you to give us a call. Schedule your consultation with Dr. Yousefi and allow him the opportunity to share with you how you'll benefit from one or more of the procedures he safely and successfully performs. You are encouraged to ask questions and share all your concerns.
To book your appointment, contact us today at 703-775-2614. We look forward to partnering with you on our journey!