You have many options for treating smile lines, so understanding which one is best for you can be challenging. If you are new to dermal fillers or want to explore the latest innovations in non-surgical wrinkle treatments, Younger Image invites you to learn about Restylane® Refyne. Dr. Yousefi of Younger Image Plastic Surgery Center offers the exclusive Restylane® Refyne for those patients in Washington, DC, Vienna, Arlington, and the surrounding areas of Northern Virginia who want to treat their nasolabial folds without surgery.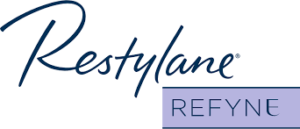 What is Restylane® Refyne?
Restylane® Refyne and its sister product, Restylane® Defyne, represent the latest advances in dermal filler treatments for nasolabial lines, also known as laugh lines. These lines are amongst the most obvious signs of aging that extend from the outer nostrils to the corners of the mouth. The location, depth, and length of the lines present a unique challenge because they are impossible to camouflage. Restylane® Refyne offers our patients a new approach to nasolabial fold treatment. The gel is specifically designed to be smoother than other similar products, thereby giving patients significantly more natural-looking results.
Since 2010, Restylane® Refyne has been used under another name throughout Europe for more than one million treatments, so the product has been used extensively in practical applications. The FDA approved Restylane® Refyne for use on patients in the United States who are over 21 years old for treating moderate to severe nasolabial folds. The XPresHAn Technology behind the product means that the gel formulation visibly reduces wrinkles while preserving a natural flexibility to the skin. This combination means that the natural appearance of the results is superior to other dermal fillers. Dr. Yousefi recommends Restylane® Refyne to patients who are new to dermal fillers as well as those who are experienced.
How Does Restylane® Refyne Work?
Hyaluronic acid (HA) is the active ingredient in Restylane® Refyne. HA reduces lines and wrinkles by attracting water to the skin to promote skin volume and hydration. The product is injected into the mid- to deep layers of skin using a fine gauge needle. Dr. Yousefi makes several injections along each wrinkle to produce a consistent result.
You will see an improvement right after the treatment. Over the next 24 to 48 hours, you may experience some mild symptoms associated with the injections, such as:
Discomfort and tenderness
Pinpoint bleeding
Redness
Bruising
Swelling
Formation of a small lump or bump
Injection site mild to moderate redness, swelling, bruising, limp-bump formation, pain-tenderness
What Results Can I Expect from Restylane® Refyne?
In clinical studies, most patients who received Restylane® Refyne treatments saw a visible improvement in nasolabial folds after six weeks. The studies also demonstrated that the results of the treatments lasted up to six months. You can expect your treatments to reduce the depth and size of your nasolabial folds.
Who Should Not Be Treated with Restylane® Refyne?
Dr. Yousefi may recommend an alternative treatment for your nasolabial folds if you:
Have advanced or severe signs of aging that require surgery
Are allergic to the ingredients in the product
Have a bleeding disorder
Are or plan to be pregnant or breastfeeding
Have had laser treatments or chemical peels
Take certain medications
Have an active or chronic skin condition
How Much Does Restylane® Refyne Cost in Washington, DC?
The cost of treatment with Restylane® Refyne is based upon the amount of product that is needed to achieve the desired results. We are better able to provide an accurate cost after your consultation. Younger Image Plastic Surgery Center currently works with CareCredit® and Blispay® to provide our patients with convenient financing options. Within a few hours of applying, you can be pre-approved for your cosmetic procedures.
Younger Image Plastic Surgery Center offers Restylane® Refyne to patients in Washington, DC, Vienna, Arlington, and the surrounding areas of Virginia. Dr. Jamal Yousefi and his staff combine personalized care with the latest technology to provide each patient with extraordinary results. For more information or to schedule a patient consultation, contact us to speak to a member of our friendly and very knowledgeable staff.